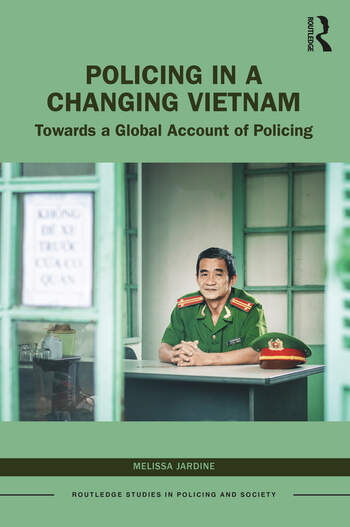 The construction of a Southern perspective of policing is a work in progress that is both ambitious and daunting. In this remarkable book, Melissa Jardine has taken us further than most contemporary researchers into this uncharted territory. Overcoming language, cultural, political and other major barriers to researching police culture in a foreign country, Dr Jardine mobilises her professional knowledge, academic rigour, empathetic attitudes and personal determination to bring out this ground-breaking research that is both highly readable and deeply challenging.
Janet Chan, Emeritus Professor, UNSW Faculty of Law and Justice, Australia
Book description
Knowledge about policing has been produced and disseminated unevenly so that our understanding comes from a skewed emphasis on the Anglo-American experience. Drawing on an original and comprehensive study of policing in Vietnam and engaging a Southern Criminological framework, this book explores police cultures and practices in a postcolonial, post-Confucian, transitioning economy.
Identifying both similarities and differences in policing and police culture in Vietnam with those found in the dominant literature from the Global North, Policing in a Changing Vietnam challenges assumptions that police are (purportedly) apolitical, averse to tertiary education and defer to legalistic approaches to policing and law enforcement. It highlights that the variations identified in policing in Vietnam must be understood, not as deviations from Anglo-American normality, but as significant separate practices and traditions of policing from which the Global North may have something to learn. Contributing to ongoing debates on police culture and socialisation, this book explores the assumptions about relationships between the police, political systems, broad societal cultures, legal frameworks, organisations, communities and gender.
An accessible and compelling read, this book will appeal to students and scholars of criminology, policing, gender studies, sociology, politics, law and all those who are interested in understanding the experiences and views of the Vietnamese police.
VIDEO: Dr Melissa Jardine has a special interest
in research and policing in the Global South.
Research on policing in Vietnam 2008-